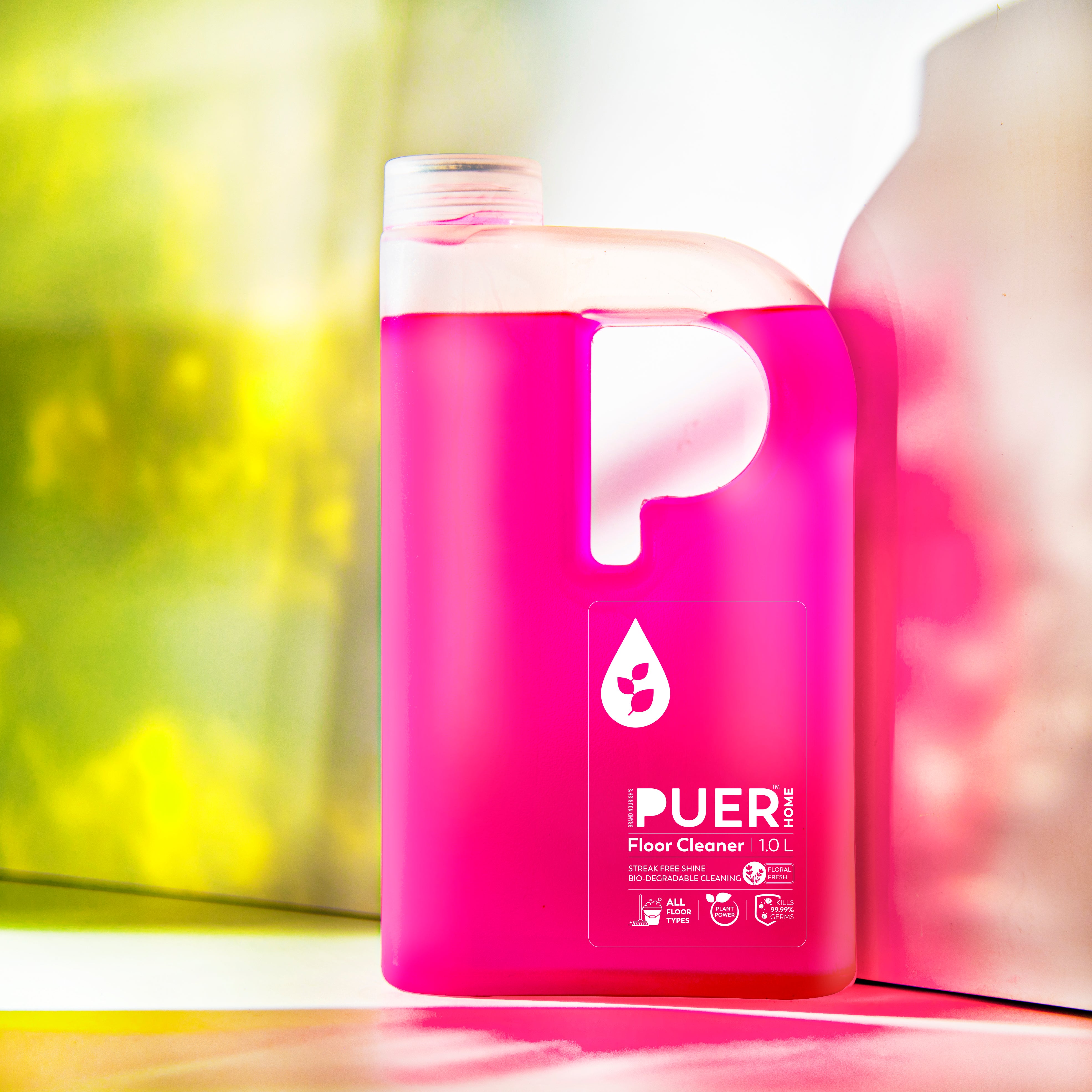 5 effortless floor cleaning hacks for every floor type!
Beautiful flooring is a style statement for a home. People install a variety of flooring in their beloved homes, which initially look stunning. However, with time the maintenance can get quite tricky. Different flooring requires different care and that indeed requires a certain floor cleaner that is compatible with all.

Let's have a look at different types of floors



*These are the most common types of flooring in India. However, all these floors come with a certain problem that needs attention and a powerful yet natural floor cleaner liquid.

Major floor problems that cannot be unseen


Tile joints look dirty
Floor looks dull
Corners are never clean
Discolouration of the floor

The most common reason behind these problems is a lack of maintenance and using incorrect floor cleaners which are chemically heavy and easily corrode the flooring. The way to solve the problem is by ensuring a proper floor cleaner liquid like PUER.

PUER offers the best floor cleaner liquid with mineral-based grease-cutting cleaning agents. Its streak-free cleaning and quick-drying formulation in no time will leave your floor shining and germ-free. It's suitable for all floor types and leaves a pleasant fragrance in the room.

Let's have a look at some tricks up the sleeves to keep your floors looking as good as new!

5 Effortless cleaning hacks

Grout cleaning hack

You will be needing 1 scrub, vinegar, baking soda, floor cleaner, a bucket of water and a mop. First, make a solution with 1 cap of floor cleaner, 40 ml vinegar and 700 ml water. Pour baking soda on the grout and then the solution. Keep it for 15 mins. Scrub well and then mop the floor with PUER floor cleaner. Your eyes won't believe that your grouts will look spotlessly clean.

Grease-cutting hack

This usually happens to the kitchen floor; if you have marble or tile flooring, it can also get greasy. Also, in case you have a pet and they pee on the floor, it is very likely that the flooring will become oily.

However, PUER floor cleaner has a grease-cutting technology, biodegradable cleaning agent and cleaning enzymes that will keep your floors clean perfectly. For best results, mop your floors twice a day; within 3 days, you will see a remarkable difference.

Floor-shining hack

This especially happens with marble flooring. The simplest way of maintaining the marble shine is by using warm water, little vinegar, and half a cap of PUER liquid detergent. Use a cloth piece to rub the floor with this solution. After that, use PUER floor cleaning liquid to mop the entire floor. This is the best marble floor cleaner that you can ever have!

Corner cleaning hack

The corners are the worst. It accumulates dirt, dust and germs. With time you will also notice an entire colony of ants living in the corners. PUER natural floor cleaner is designed to make sure that the corners look spotlessly clean.

Here are a few things you will need – an old toothbrush, warm water, floor cleaner and a piece of cloth. Dip the toothbrush in floor cleaner and scrub the corners thoroughly. Then dip the piece of cloth in warm water and wipe off the corners. Viola! Your corners are perfectly clean.
Stain removal hack
Marble floors tend to get stained easily, especially in the bathroom. Gradually it loses its shine and lustier and the marble's regal appearance. You won't need a bathroom floor cleaner liquid or a marble floor cleaner separately for this, rather a simple DIY hack and save your flooring's life.

All you need – Scrubber, PUER liquid detergent, hot water, baking soda and white vinegar. Mix the liquid detergent, and vinegar in some water to make a solution. Pour baking soda and then dip the scrubber in the solution. Do some muscle work for 5 mins and scrub. Pour the hot water on it.

Next step, use PUER floor cleaner and wipe the floor clean. The streak-free and quick dry formulation will help quickly clean the floors just like new.

Let us know how you like the hacks and try our PUER floor cleaner on all types of floor. Live with the mission of effortless cleaning, naturally!